Aster Integrated Liver Clinic
The Aster ILC Program is now available in the UAE to offer their full range of services under one roof.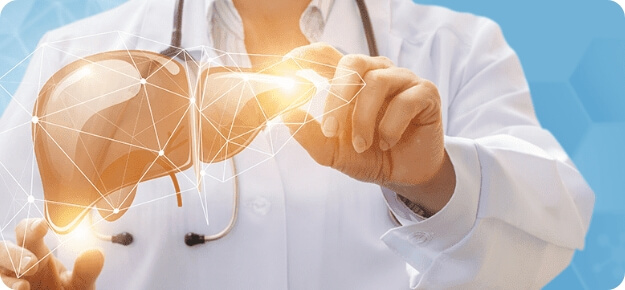 Aster Hospital offers expert services for comprehensive management of complex liver and pancreatic-biliary diseases in both adults and children. Our Aster Integrated Liver Care (ILC) Program is headed by Dr. Kaiser Raja, who is a Senior Consultant Physician in Liver Diseases (Hepatologist) and Liver Transplantation. He is the Chief Hepatologist for the Aster Integrated Liver Care Program at Aster DM Healthcare Group in India. Dr. Raja has more than 15-years of experience in this field and is an expert in the medical management of patients with chronic liver problems, liver failure, liver cancer and patients requiring liver transplantation. Trained at some of the leading institutes in the United States as well as India, his special interests include chronic viral hepatitis, autoimmune hepatitis, liver cancer, fatty liver diseases and post-transplant long-term medical care.
The Aster ILC Program manages two liver care and transplant centers at Aster Medcity, Kochi and Aster CMI Hospital, Bangalore. All consultants of the Aster ILC team are trained at some of the best hospitals in the United States, Canada and the United Kingdom, and have a collective experience of over 5000 major hepatobiliary and pancreatic surgeries and 2000 liver transplants. Multidisciplinary in approach, the Aster ILC team is comprised of highly experienced hepatopancreatobiliary and abdominal multi-organ transplant surgeons, adult hepatologists, pediatric hepatologists, advanced endoscopy experts, interventional radiologists, liver intensive care experts, liver anesthetists, and pathologists. We provide evidence based and customized, multi-disciplinary team based opinion to patients suffering from complex problems.
The Aster ILC Program is now available in the UAE to offer their full range of services under one roof. Hepatologists and HPB surgeons from the ILC Team are available for consultation at Aster Hospital in Dubai. Aster ILC Program in UAE integrates completely with the Aster Integrated Liver Care (ILC) Program in India and in coordination our team in India we provide the following services at Aster Hospital in Dubai.
Evaluation and management of patients with chronic hepatitis, viral hepatitis, autoimmune liver disease, cholestatic disorders, undetermined jaundice, cirrhosis and liver failure.
Evaluation and management of newborns, infants and children with jaundice and liver problems. We offer liver biopsy and comprehensive metabolic and genetic work-up.
Counseling and assessment of patients for liver transplantation; evaluation of potential living donors; post transplant long term care of patients already undergone liver transplantation. Coordination with our transplant program in India for specialized testing and medications.
We have special intensive care units to care for patients with acute liver failure symptoms and decompensated cirrhosis. The unit works in close coordination with our Liver Intensive Care Unit in India and follows common protocols.
Our clinicians in Dubai as well as in India are available for Teleconsultation in case patient cannot visit our center in Dubai.
We provide second opinion to patients suffering from complex hepatobiliary and pancreatic disorders. You may contact us via email (contact@transplantationliver.com) and send your medical reports.
Dedicated HPB surgeons are available and we offer complex resection surgeries for benign and malignant diseases of the liver, biliary tract and pancreas at Aster Hospital in Dubai. Minimally invasive laparoscopic liver and pancreatic surgery are also available at Aster Hospital.
We offer ERCP for complex biliary and pancreatic cases as well as for post liver transplant biliary problems.
We offer a complete range of care for liver cancer including liver resection, radiofrequency ablation, and transarterial chemoembolization. Radioembolization and Liver Transplantation can be offered in coordination with our center in India.
Image guided percutaneous biopsies, transjugular biopsy, chemoembolization for liver cancers, Transjugular intrahepatic portosystemic shunts (TIPS procedure), transvenous obliteration of varices, and portosystemic shunt embolization. Currently Interventional Radiology services are available at our centers in India.
We do liver biopsies on adults and children and offer dedicated pathology reporting in coordination with our network Liver pathologists in India. Liver biopsy slides can also be sent to us for a second opinion.
Through our partners in India and Europe, we offer a complete range of advanced testing for liver diseases. This also includes genomic testing with whole exome and whole genome sequencing. For pediatric patients, complete range of metabolic testing is available.
Patients suffering from the following conditions can seek opinion from our experts from Aster Integrated Liver Care at Aster Hospital in Dubai.
Chronic hepatitis and cirrhosis
Chronic liver disease
Recurrent jaundice
Abnormal liver function tests
Hepatitis B and C
Autoimmune liver disease
Fatty liver disease
Liver, pancreatic and bile duct cancers
Patients considering liver transplantation
Pancreatic diseases – pancreatitis, pancreas cancer, neuroendocrine tumors
Newborns, infants and children with jaundice and liver disease
Post liver transplant patients for regular follow-up