Aster Hospital, Sharjah is an extension of Aster DM Healthcare's applaudable efforts to provide world-class, patient-centric hospitals radicalized by technological and medical advancements while constantly inculcating a culture of perfection.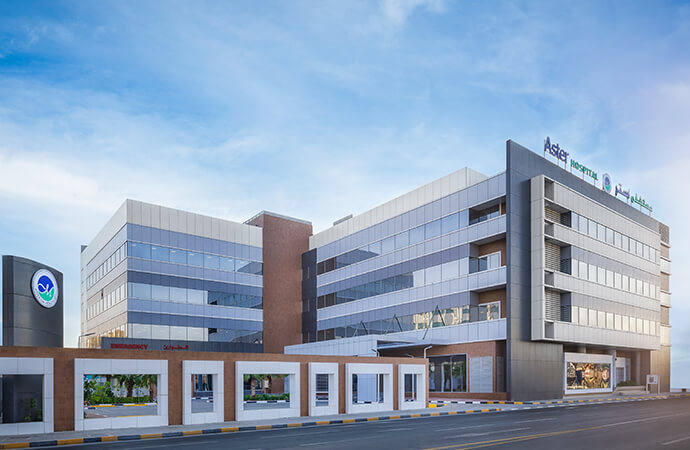 Everything at Aster Hospital, Sharjah is designed ergonomically. Patient comfort and satisfaction are of the utmost importance and we deliver that with serene surroundings, spacious interiors and highly-advanced facilities to create a positive environment conducive to healing.
The magnanimous Aster Hospital, Sharjah is a state-of-the-art, revolutionary multi-speciality hospital, where doctors adopt a multi-disciplinary approach to providing holistic treatment to patients.
Everything here is designed keeping in mind the comfort of patients. The spacious interiors, advanced facilities, and healthcare experts create a positive ambience that's conducive to healing. Aster Hospital, Sharjah is among the best multispecialty hospitals in the Emirate of Sharjah.
Facility is complemented by:
▪ 4 Operation Theaters including a separate OT for women equipped with the most advanced technology
▪ Suite rooms
▪ Private rooms & semiprivate rooms
▪ Deluxe Rooms
▪ 7 NICU beds
▪ 2 beds for Labour, Delivery and Recovery
▪ A critical care unit comprising of 7 beds
▪ Day Care Unit with 9 beds
▪ 24-Hour Emergency Care
▪ 24×7 Pharmacy
We have specialized medical teams comprising of consultants, surgeons, trained nurses, technicians and ancillary staff in all the departments.
We believe, that it is our unique approach to care and healing touch that puts the smile back on our patients' faces as soon as possible.
FACILITY - Highlights
GROUND FLOOR

Emergency
Walk-In Clinics
Radiology
Other Services
Service Corridor

SECOND FLOOR

In-patient rooms
Laboratory
IP Billing / IP Pharmacy
FIRST FLOOR

Physiotherapy
Endoscopy
Dialysis
OPD (Monday - Saturday)
Administration Offices

THIRD FLOOR

OT COMPLEX
ICU COMPLEX
DSU
MATERNITY COMPLEX
PATIENT ROOMS
WELL BABY UNIT
CONSULTATION ROOMS (MATERNITY)
Aster Hospital, Sharjah
Sheikh Saqr Bin Khalid Al Qasimi Street
Al Bu Daniq, Sharjah (Behind Mega Mall)
Pin: 28248
Working Hours
Saturday - Sunday
9:00 am - 10:00 pm
Hospital Timings: 24/7
Exceptional Facilities
Our facilities have won several certifications. including a Quality department led by experts in hospital quality management, which ensures that each and every facility not just maintains but also upgrades its quality standards, time and again.