Aster Hospital, Al Qusais
Better Healthcare with State-of-the-Art Facilities at Aster
Aster Hospital Al Qusais is a 150-bedded, modernised, multi-speciality hospital that is one of the leading institutions in healthcare excellence since .
At Aster Hospital Qusais, we strive to exceed our patients' expectations by providing exceptional service, treatment, care, aftercare and support. Our team of skilled healthcare professionals are trained in a diverse set of treatment approaches to provide holistic care to patients. Aster Hospital Al Qusais is thus one of the most well-facilitated healthcare institutions in Dubai.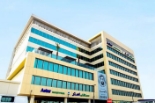 Aster Hospital Al Qusais is a 150-bed facility with:
5 OTs
Cath lab
ICU 10 beds
NICU 9 beds
4 labour rooms
84 IP rooms
Day Care Unit with 10 beds
Dialysis with 4 beds
24-hour emergency care with 10 beds
24/7 pharmacy
We have specialized medical teams comprising of consultants, surgeons, trained nurses, technicians and ancillary staff in all the departments. We believe, that it is our unique approach to care and healing touch that puts the smile back on our patients' faces as soon as possible.
Aster Hospital, Al Qusais
9 A Street, Al Qusais Industrial Area 2,
Al Qusais, Dubai,
P.O. Box:119428
Working Hours
8:00 am - 10:00 pm
Exceptional Facilities
Our facilities have won several certifications. including a Quality department led by experts in hospital quality management, which ensures that each and every facility not just maintains but also upgrades its quality standards, time and again.